Shokpar Wind Power Station LLP is a joint venture of China Power International Holding and Visor International DMCC.
Shokpar has been established for the development, construction and operation of a 100MW renewable wind power project located in Sагysu District of Zhambyl Region, Kazakhstan. The project is known as the "Sarysu Wind Power Project".
The Sarysu Wind Power Project is one of the important energy projects included in the China-Kazakhstan Energy Production List.
Sarysu Wind Power Project is currently being constructed and is expected to be completed and producing electricity in the first quarter of 2024.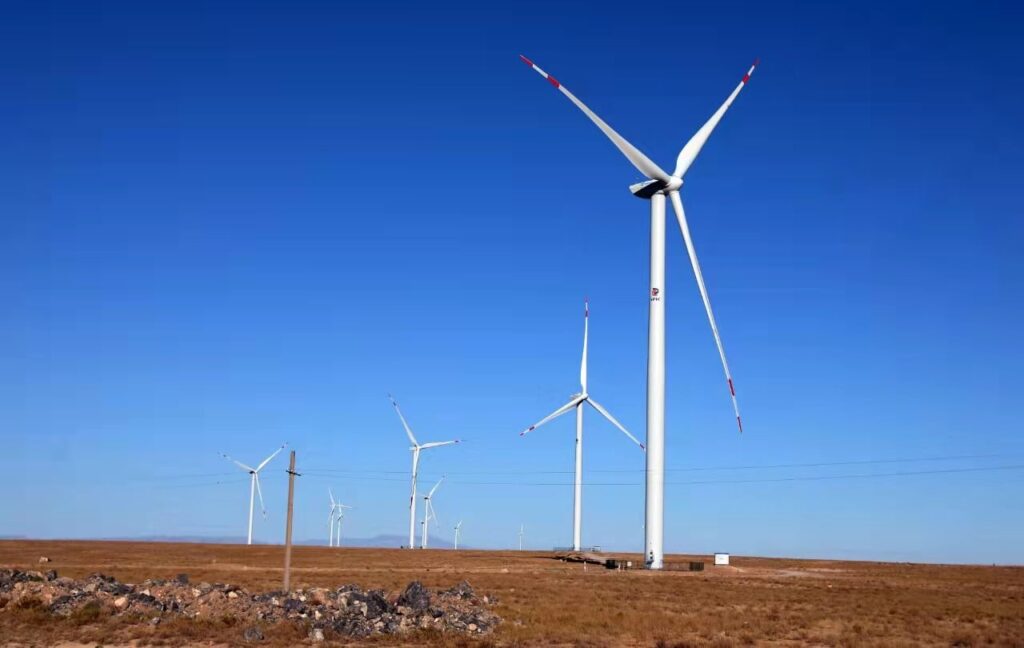 The Sarysu Wind Power Project will occupy a total area of 210 hectares and is located approximately 2 km southwest of Zhanatas City. The project will utilise twenty-two 4.8MW – EN156-4.8 wind turbines manufactured by Envision in addition to a 220kV step-up electrical sub-station, a 7.64km double circuit 220kv transmission line and a project control complex.  Connection with Kazakhstan's national grid will be made at the Opornaya Substation owned by JSC "KEGOC" through the out-going 220kV line from the step-up electrical sub-station. The total installed capacity will be limited to 100MW.
The total cost of the project is projected to be approximately USD 135 million of which about 74% will be financed by a consortium of international financing institutions.
The project is being constructed with a focus on social responsibility, sustainability and environmental harmony.
Social Responsibility, Sustainability and Environmental Harmony
The Sarysu Wind Power Project will provide clean power for Kazakhstan's electricity grid.
The wind turbines will be installed in open areas on unused land.  In addition, the base of each unit occupies only a small area and will have a minimal impact on the local ecological environment. Extensive environmental studies have been conducted including studies of flight patterns of birds and bats to ensure no negative consequences for native and migratory species.
Wind power generation technology means producing clean and pollution-free renewable energy by converting natural wind into mechanical energy and then into electricity, without damaging or polluting the environment.
Wind is a renewable energy that can be utilized in large scale to significantly reduce the use of conventional fossil fuel energy resources (such as coal, oil and natural gas) thus reducing the ecological problems associated with emissions from hydro-carbons.  While providing new power supply, wind power does not cause irrecoverable damage to the natural environment caused by resource extraction.
Making greater use of renewable energy will reduce "greenhouse gasses" such as CO2 and SO2, pollutants and wastewater. The project will replace the equivalent of burning 109,500 tons of standard coal and thereby reduce emissions of SO2 by 1031 tons per annum, NOx by 934 tons per annum, CO2 by 289,000 tons per annum, smoke dust by 322 tons per annum and ash by 32,900 tons per annum.
The construction of the Sarysu Wind Power Project will have a positive effect on environment protection and reduction of air pollution and will become another driver for local economy due to its social benefits and employment opportunities.
Social & Environmental Benefits
Sarysu Wind-Power Station Project, will bring significant social and economic benefits to Kazakhstan and especially to the Zhambyl Region.
Sarysu Wind-Power Station Project will produce 350 million kilowatt-hours of electricity per year, which can meet the power demand of thousands of families in Kazakhstan. The project will also create well-paying employment opportunities for both skilled and unskilled local residents.
The operation of the project will directly improve the current shortage of power in the southern Kazakhstan region. It will also improve people's lives and will elevate the investment and benefit of various infrastructures and industrial and mining enterprises indirectly;
While contributing to Kazakhstan's locally sourced energy production portfolio significantly, the project will also contribute fundamentally to Kazakhstan's environmental protection and decarbonisation goals.